Wisp

Characteristics

Race
Gender

Female

Age

Unknown

Professional Status

Affiliation
Occupation

Dark Dreamkeeper

Personal Status

Status

Active

Power and Weapons

Power

Density and Diffusion Manipulation

Debut

First Appearance

Volume 2 (Chapter 4)

Image Gallery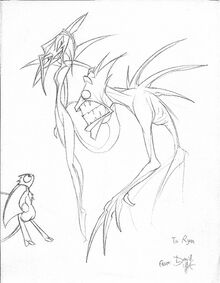 Wisp is a Dark Dreamkeeper working for the Nightmare and is one of the major antagonists in volume 1 of Dreamkeepers.
Appearance
 A blueish dreamkeeper with little wings, and a tiny waist.  She wears a skin-tight outfit of white and blue to assist her power.  She has a fox-like tail.
Personality
Wisp has a very unique and yet unusual nature to her, as she appears to suffer from an extreme form of multiple-personality syndrome which cause her to act differently depending on her mood or the situation. Almost manic in a way, these have an effect on how she can appear to people while also extending to her "Power". In one moment she can be acting on a normal level, then the next she will be very emotional, she can then turn angry or even depressed.
Wisp seems to consider these different sides of her to be like individual beings as she is known to consult them on certain opinions. These sides of her are generally defined by her eye color; like when angry her eyes turn pinkish red, while bright yellow eyes represent her extreme happiness.
Wisp seems to show great fear and respect for Nabonidus to where she will do anything ot make him proud; though she does not share the same view with Tinsel.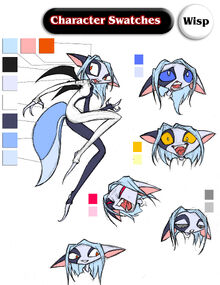 History
Volume 2
Chapter 4
Power and Abilities
Density and Diffusion Manipulation: Wisp's "Power" involves being able to alter her body's density and/or cell structure in order to perform a number of abilities that suit the situation; whether it be for combat or infiltration. While active a light-purple colored halo appears above her head.
Phasing: Wisp can diffuse herself through solid objects, be it walls, oncoming projectiles or even attacks; so long of course as she is aware enough to actively trigger her power.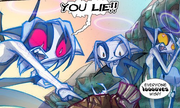 Duplication: Wisp can separate herself into multiple clones, each of which seem to occupy a part of her fractured personality and are even capable of conversing with each other individually. However the more clones she produces this way the more diaphonous they become.
Flight: Through her Power, she can make her body light enough to where it can float or fly great distances.
Expert Hand-to-hand Combatant:
Trivia
A different color glows in her eyes accordingly to the emotion she's experiencing (for example: turn pinkish red with anger, bright yellow for happiness, etc.)
Has seen Mace without pants.
Has made her base in a dingy, decrepit crypt area underneath a church in the Theopanies District.
Quotes
"Wisp redeemed? Thank you! Thank you! - Can I have a monster?"
References