Tia

Characteristics

Race
Gender

Female

Professional Status

Affiliation

Troika

Occupation

Troika Soldier

Personal Status

Status

Active

Home

Power and Weapons

Power

Unknown

Weapons

Hand Gun

Debut

First Appearance

Volume 4 (Chapter 10)

Image Gallery
Tia is a member of Troika, who was first seen in a meeting regarding Operation Guillotine and appears to be a close friend of Nainso
Appearance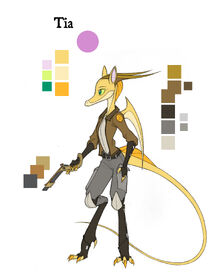 Tia appears like a drakonoid Dreamkeeper, having mostly yellow skin, with two dark-colored horns that stem from the top of her head and back past her ears, green eyes, a yellow appendage that runs along the back of her body to her tail, and two thin wing-like appendages on her back. She wears the standard Troika uniform with gray leggings with white knee pads.
Personality
History
CAUTION: SPOILERS AHEAD

HOLD IT, reading powers are restricted beyond this point!
This article contains actual spoilers from both GNS and Prelude that may reveal major plot points and hidden character information. If you wish to be saved from the nightmarish reveals, tread carefully and read at your own risk!
Volume 4
Chapter 10 - 12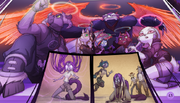 Tia was first seen attending a meeting with Igrath and Scinter regarding on how to kill the attorney general, as part of a special operation to take down all the Dark Dreamkeepers currently occupying Anduruna. Later, she and her fellow soldiers reacted to Kalei's unexpected use of her Power by activating their own.
Later that night, Tia gave Nainso some coffee as he was looking through the information he got from Lilith regarding some ancient history. She told him to keep calm when going over the stuff and asked to start from the beginning. He then told her what he translated so far regarding Nabonidus and the history that was set to repeat itself once again. Asking if it's possible that the Spirits of Legend were also true like with the Nightmares, Nainso pondered that they might need to make a trip to find Logos.
Equipment
Hand Gun: When Kalei unexpectedly used her unknown Power, Tia reacted by activating her Power and pulling out a small handgun.
Power and Abilities
Unknown Power: When Kalei unleashed her Power on everyone, Tia reacted by activating her own, spawning a Halo above her head. It is currently unknown what sort of Power she possesses.
Quotes
(to Nainso) "Well, at least we won't have to file taxes anymore."[1]
References
↑

Volume 4 Chapter 12
Community content is available under
CC-BY-SA
unless otherwise noted.