Fae Winters

Characteristics

Race

Dreamkeeper

Gender

Female

Professional Status

Occupation

Fallguard Player

Personal Status

Status

Deceased

Relative(s)

Power and Weapons

Power

Unknown

Weapons

Katana
Fae Winters was a Fallguard Player, whose death was believed to be caused by her husband, Igrath. and sister to Lilith's mother.
Appearance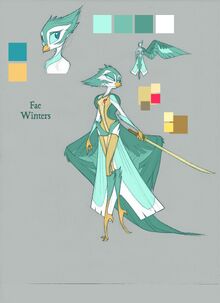 Fae resembles a tall, slender avian with white and green feathers; with the upper half of her body being mostly white while her lower half is introverted to having mostly green feathers, her feathers on the back of her head are slicked backward. Like Igrath, she has massive wings that extend from her backside and extend wider than Igrath's wing span. She has blue/light-blue eyes, a yellow beak, and a wide-tail that splits roughly above her talons.
Her only known outfit thus far is what appears to be a Fallguard uniform, having a single stripe down the middle, even persisting with the design of her stockings, and a red "K" on her left chest. She appears to wield a katana, though appearing to lack a scabbard of any kind.
Personality
Nothing is known about Fae's personality at this time.
CAUTION: SPOILERS AHEAD

HOLD IT, reading powers are restricted beyond this point!
This article contains actual spoilers from both GNS and Prelude that may reveal major plot points and hidden character information. If you wish to be saved from the nightmarish reveals, tread carefully and read at your own risk!
History
Past
Most of her past is still in the midst of being revealed, with it being implied that Volume 5 would cover her history with Igrath. Based on swatch art, she appears to have once been a Fallguard Player at the same time as him, just before the incident that led into the Toll Wars.
Post-Toll Wars
At some point, Fae would marry Igrath, though it's unknown if it happened during or after the war. However, on Octobris 17th, 1215 A.D., she was found murdered in their home. What transpired that day is still unknown, other than the incident leaving Igrath blind, though the following day the media would write it off as murder from his own weapon. The public believes he did it to silence her from supposedly planning to reveal his collusion with Scinter.
Equipment
Katana: Fae wielded a katana, presumably as a weapon for the sport she was in. It's currently unknown how proficient she is with it.
Trivia
References