Cal

Characteristics

Race
Gender

Male

Professional Status

Affiliation

Central City Authority

Occupation

Shock Trooper (Commander)

Personal Status

Status

Active

Home

Debut

First Appearance

Volume 4 (Chapter 10)

Image Gallery
Cal is a high-ranking officer working in the Central City Authority, acting as commander of the CCA Shock Troopers.
Appearance
Cal has a very lupine appearance, based on a Tasmanian tiger, with blue eyes and having mostly tan-brown fur with dark stripes across his long snout, and presumably along his back, starting on the back of his neck down to about midway across his tail; as well as dark-colored ears and at the end of his tail. In his debut appearance he wore a standard officer uniform, while in promotional art for the comic he could be seen wearing the CCA Shock Trooper attire but without the helmet.
Personality
Cal has a very strict viewpoint on the legal system as he was furious that criminals were being allowed free despite the use of their Powers and having killed some of his men. While he will question his superiors about issues on this matter, he ultimately will abide by their wishes if it means keeping his job, despite being unaware that the same superiors are Dark Dreamkeepers.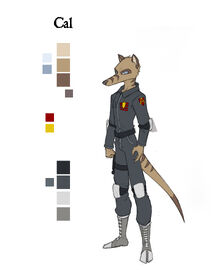 History
CAUTION: SPOILERS AHEAD

HOLD IT, reading powers are restricted beyond this point!
This article contains actual spoilers from both GNS and Prelude that may reveal major plot points and hidden character information. If you wish to be saved from the nightmarish reveals, tread carefully and read at your own risk!
Volume 4
Chapter 10
Trivia
As one of the few officers in the CCA that more or less follows the laws and procedures set by the government, he is so far the only named member to not be under the influence of the Dark Dreamkeepers or Nightmare.
Quotes
(Regarding the Neon Knives) "Good men lost their lives capturing them, and their families deserve and explanation. I'm not stepping back until I get one."
References